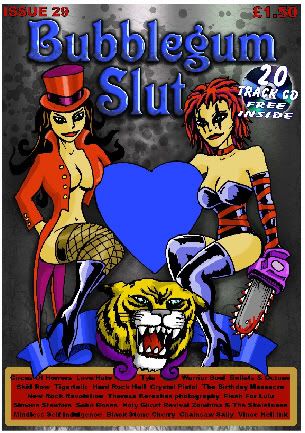 Issue 29 of the UK's finest, and only fake-fur covered glam / sleaze / goth / rock'n'roll read is out now and includes a new interview with Mindless Self Indulgence, plus a 20 track free CD and 84 pages of the following;



Skid Row
Warrior Soul –
Circus Of Horrors Dr. Haze reveals his glam rock roots!
Love / Hate
Tyla (Dogs D'Amour)
Black Stone Cherry
Flesh For Lulu
Tigertailz
Hard Rock Hell festival
Bullets & Octane
Crystal Pistol
Holy Ghost Revival
Soho Roses
Theresa Kereakes photography – interview and exclusive notes on some of her most iconic shots of L.A's punk inner circle
The Birthday Massacre
Darkwater
Zombina & The Skeletones
Simone Stenfors
The Open Road To Ruin – a tour manager breaks the first rule of road and tells you just what goes on behind tour bus curtains…
Whatever happened to the New Rock Revolution?
Origanes – insights from a seamstress who has dressed the underground rock scene's most flamboyant and freakish.
Vince Neil Ink – inside the Motley Crue frontman's Las Vegas tattoo studio
Shock! Horror! column - Chainsaw Sally is featured movie
Plus regular columns Leave It To The Professionals and Trashtralia, 'Hollywood Rocks' as featured release and more than 90 albums, singles, gigs, books, zines and DVD reviewed!

Your free CD includes tracks from Panzer Princess, Drugdealer Cheerleader, Darkwater, Maleficent, The Hip Priests, Guttercat & The Milkmen, Hollywood Suicide, Bubblegum Screw, Filthy Cake, Fury UK, Johnny Rocket, Deadbeat Deluxe, $lash Vega$, Friday Night Soundsystem, The Skuzzies, Chop Suicide, Pure Decay, Little John Rocket and 6is9.

Ordering:
Copies cost £2.40 inc. UK postage, or £3.00 inc. international postage by PayPal to bubblegumslutzine@gmail.com

To make life easier we have now added PayPal buttons to our MySpace ( www.myspace.com/bubblegumslutzine - in the 'about me' section) along with a full list of our stockists nationwide and online.

Cheques and postal orders can be made payable to 'A. Bateman' and sent to; 27 Stores Lane, Tiptree, Essex, CO5 0LH.